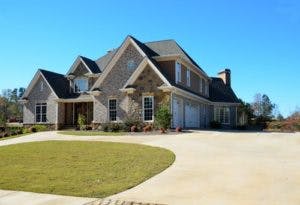 So you've decided to buy your first home? Before you can get started on putting offers out there, you'll have to check a few things off your to-do list first.
Have a Decent Credit Score
The higher your credit score, the better your chances will be for being approved for loans and having your offer accepted by sellers. You've been gathering a credit history since you took out your first credit card. With a range between 300 and 850, you're going to want the highest score possible, especially when shopping around for mortgage rates.
Check Current Mortgage Rates
The housing market and mortgage rates are susceptible to change every year, whether that means they'll rise or fall. In 2019, mortgage interest rates are predicted to rise. However, your specific rate will depend on many factors, including your overall debt, the value of your assets and the length of the mortgage. Looking at the current rate, you or another source will be able to calculate the monthly mortgage payment you'll be able to afford.
And Talk to an Advisor
Once you've determined what's financially doable for yourself, it's time to look for a mortgage lender who will provide you with concrete numbers. Not sure where to begin? The bank is a great place to start! They'll be able to recommend companies and advisors that are trustworthy. Once you've found one, ask question after question regarding first-time buyer plans, how long getting approved will take and what fees are included.
Get Pre-Approved
Once you've found a mortgage broker that you can work well with, it's time to start the pre-approval process. Especially when you're looking to buy your first home, obtaining a pre-approved mortgage allows you to act quickly when the perfect home appears on the market. Because the pre-approval process can take some time, it's a good idea to get all your documents gathered and ready to go when the moment strikes.
Things to Avoid
When you begin the hunt for your first home, don't open a new line of credit, as this may negatively affect your credit score. Make sure you stick with the same job and aren't late when making debt payments. Lastly, avoid overspending, as you'll need to save as much money as possible for unforeseen expenses that may occur.
Find a Trusted Real Estate Agent
You're about to make a big purchase and could probably use all the help you can get, which is why it's a good idea to work with a real estate agent. Make sure you find someone you're comfortable working with, who has your best interests in mind and won't let you overpay for a property. Talk to family and friends for agent recommendations, as you'll have prior knowledge of how competent they'll be.
At you looking to buy a condo in Vancouver and need a trusty real estate agent that knows the area? Then choose Cherry Yeung as your Burnaby real estate agent! With in-depth experience and knowledge about the Burnaby housing market, Yeung has a great track record for finding her clients the perfect home. So contact Cherry Yeung, one of Burnaby's top realtors today to get started on your house hunting journey.